Dive Sites Malapascua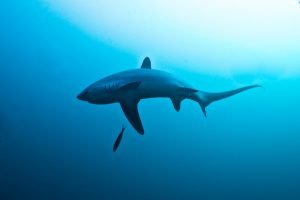 Monad Shoal
Early morning dive starts between 5am – 6am depending on the weather. In 30 minutes you will reach Monad Shoal. The island has a diameter of 1,5km and a depth of 20 – 28 meters. In Monad Shoal you have a +80% chance the whole year round to see the thresher sharks. Manta rays and mobulas are also spotted but mostly in the afternoon dives. Dive with a longer smile, dive with Nitrox is highly recommended!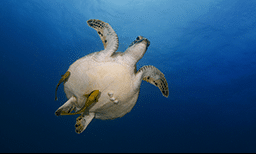 Kemod Shoal
This shoal lies close to the island of Leyte, east of Malapascua and you can reach it in about 45 min. Besides sightings of thresher sharks and devil rays, there is a good chance to encounter hammerhead sharks. The top of the shoal is about 10-12 m deep and is covered in sponges, hard- and soft corals. The south side of Kemod shoal forms a slope which goes as deep as 30m before it turns into a great drop off. The rest of the shoal have stunning walls, covered with sea fans and corals. Yellow fin tuna, unicorn fish, mackerel and barracudas can be seen regularly. Best time for Kemod is between March – June.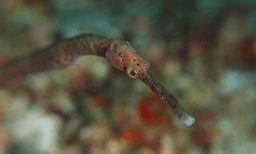 Deep Rock
An underwater pinnacle which starts at around 14-16 meter and is reachable in about 15-20min. The fairly small rock is one of the highlights of the divesites around Malapascua Island and a must go for everybody. The entire rock is covered with beautiful soft corals in different colors. In between you easily find 5-10 different nudibranch species, giant and clown frogfish, different crabs and shrimps and depending on the season you can also find pygmy seahorses or harlequin shrimps over there. Nitrox is highly recommended.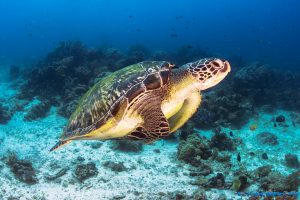 LapusLapus
A 10 minute boat ride takes you to this place at the northwestern side of Malapascua. A great rock formation down to 20m with beautiful soft corals, small reef fish, frogfish, lionfish, scorpionfish and nudibranches makes it a perfect dive site for beginners to advanced divers.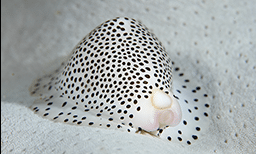 Lapus II
Lapus II lies right next to LapusLapus and starts with a sloping reef in 12m which turns into a small wall. The bottom here is at around 20m depth and the sandy bottom with a lot of black corals and sea fans is sloping down to a max. depth of 30m. Butterfly fish, damsels and anthias are living between the sponges, soft and leather corals which cover the entire dive site. Nudibranchs, frogfish and a high diversity of different shrimps and crabs made it their home. All in all a good dive site for all level of divers. Currents can be mild to strong.
Lighthouse
Only 10-15 minutes boat ride away from the dive center, is a site for night dives. The dive starts with the observation of mating Mandarin fish. Seahorses, Blue ring octopus and an abundance of critters can be found here as well.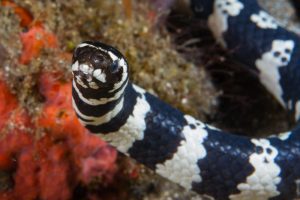 Calanggaman Island
This picturesque spot is also perfect for snorkelers and swimmers, reachable in about 75-90min. It's a beautiful wall dive with great coral growth. Rare longnosehawkfish, nudibranches, and even the odd thresher shark can be found along the wall, amidst the large black corals gardens. Pygmy seahorses can be seen at the deeper fan corals as well. During the dives we often offer BBQ on the beach. This daytrip is an unforgettable experience for all, divers, snorkelers and families. Often we combine this dive site with Nunez Shoal.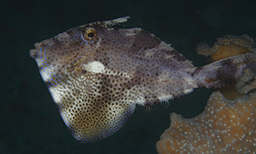 Nunez Shoal
This shoal is located south of Malapascua and is a perfect combination with Calanggaman Island. Walls are covered with soft corals, the plateau is covered in hard & soft corals and the fish life is much better than around the waters of Malapascua. With a little bit of luck, blue ring octopus can be spotted here as well.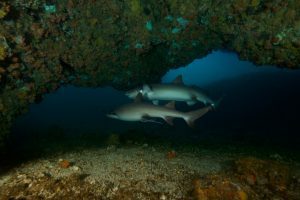 Gato Island
Within 45 min by boat we can reach Gato Island. Gato is famous for its sea snakes and big whitetip reef sharks, which are resting in small caves underneath some rocks. A very beautiful dive is the tunnel, where you start from the north east and exit at the west side of Gato Island, especially if one or two white tip reef sharks are waiting you at the exit. It's one of the best locations in the Visayas sea with an unbelievable variety of underwater life. Stunning rock formations, swim throughs and a lot more awaits you at this top dive site.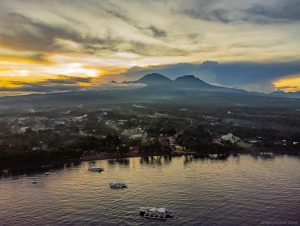 Doña Marilyn
The ferry became a victim of a typhoon named "Ruby" on the 23rd October 1988. It was a passenger ferry from Leyte to Cebu and a lot of people died on that last trip. To show respect, we do not penetrate the wreck. It's resting on the starboard side on a sandy bottom at a max. depth of 32m. The top of the wreck is in about 16m depths.The hull is completely covered in a garden of huge black corals. The entire wreck has a high variety of sea life. Here you can find everything from frogfish, nudibranch, whitetip reef sharks, marble ray, eagle ray, different pipefish and so much more. Nitrox 32% is recommended.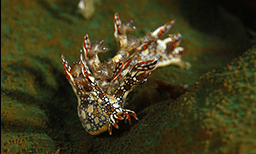 Maria's Point
Far away and a great combination is Maria´s Point with the wreck of the Dona Marilyn or Gato Island. A small rock is coming out of the water and it goes down on the west and south side like a pyramid. It is covered with soft and hard corals in a diversity Malapascua can´t offer. There is not much fish neither critters around, but the colorful pyramid makes it a divers dream. Strong currents can be found there but it is still suitable for beginners and advanced.